Digital Media and Journalism
The Digital Media and Journalism (DMJ) program prepares you for a career as a media professional, equipped with the critical thinking, knowledge, and technical skills needed to work in journalism, public relations, or with any organization or business with a media profile. By the time you graduate, you will be able to:
Design and develop content for digital and social media platforms.
Tell intelligent and compelling multimedia stories.
Unearth and critically interpret information about contemporary issues.
Understand and analyze the wider social, political, and economic forces shaping today's journalism and media environments.
Starting in Fall 2021, students will earn a second credential in addition to their Honours BA in Digital Media and Journalism as part of the program. The new Certificate in Digital Media Production will highlight the hands-on training students will receive and the skills they will develop via workshop-based classes in digital imaging and photography, audio storytelling, videography, as well as graphic and web design.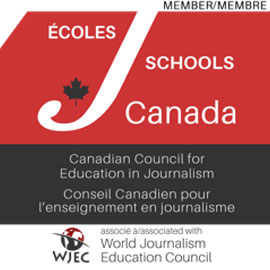 The Digital Media and Journalism program is proud to be part of J-Schools Canada, which promotes the study, practice and reflection of journalism education in Canada and internationally through the World Journalism Education Council.