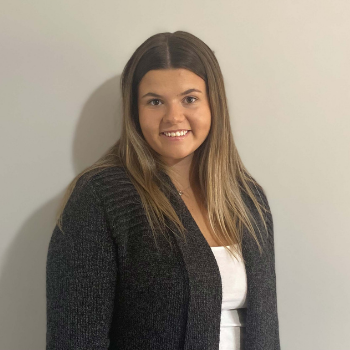 Laurier student's first-hand experience fuels passion for research
Introduction 
We asked our current Graduate students to tell us a bit about themselves and what kind of things they are researching.  Below is an overview of Hailey O'Neil's work. Hailey's first-hand experience with a relative who has early onset dementia fuels her passion to increase awareness about early onset dementia. 
Name: Hailey O'Neil
Program: MKin
Educational Background: Bachelor of Kinesiology Honours
Current Project/Thesis/Field of Study: A qualitative investigation of the lived experiences of female informal caregivers caring for individuals with early onset dementia
Tell me about yourself and how you became engaged in your field of study?
I completed my undergraduate degree (Bachelor of Kinesiology, Honours) at Wilfrid Laurier University. My fourth-year undergraduate thesis examined the lived experiences of an individual with early onset Alzheimer's disease and his family. The results of my undergraduate thesis shone light on the significant effects early onset Alzheimer's disease can have, not only on the individual but the entire family unit, specifically the primary informal caregiver. My undergraduate thesis allowed  me to recognize my love for research and my passion towards helping those affected by early onset dementia.
Provide a brief overview about your research 
With population aging the number of individuals with dementia and their informal caregivers (CGs) is rising. Individuals with dementia are classified as having either early onset dementia (EOD) or late onset dementia (LOD) based on age at diagnosis (EOD < 65, LOD > 65) (Alzheimer's Society Canada, 2020). Informal CGs are individuals who provide unpaid care to family members/friends unable to care for themselves (Williams et al., 2010). Informal CGs for individuals with dementia experience an increased risk of compromised health. However, CGs of individuals with EOD (CG-EOD) are more likely to have longer caregiving durations, less social support, and heavier caregiver burdens than those caring for LOD (Arai et al. 2007).
Further, there are limited resources available to CGs-EOD, increasing their likelihood of negative health outcomes associated with their CG roles. My research addresses these gaps by examining the lived experiences of female CGs-EOD. More specifically, I anticipate obtaining a more thorough understanding of the effects of caregiving on CGs and their families, and the consequence of social support (or lack thereof) on the quality of life of Canadian female CGs and their care recipients. CGs have always shouldered a heavy burden which has only been intensified by COVID. Their voices need to be heard.
How do you stay passionate as a graduate student?
Having a relative with early onset dementia has allowed me to experience first hand the effects of this devastating disease. This first hand experience fuels my passion to increase awareness about early onset dementia and strive for the creation of specific resources available for this at-risk population.
What one piece of advice would you give to other students interested in pursuing graduate studies?
Make sure you are passionate about your research topic and find a supervisor you are compatiable with, both academically in relation to research interests and personality. Having a supervisor you truly love working with will make the graduate school journey that much more enjoyable.
Where can someone learn more information about your program or research?
More information about my program of study can be found on the Laurier Master of Science Kinesiology webpage. 
More information about my specific research and research interests can be read within my recent publication.
O'Neil, H., & Fletcher, P. (2021). "Sometimes life throws you a curve ball": the lived experiences of an individual with early onset Alzheimer's disease and his family. Clinical Nurse Specialist. Accepted, 1-9, https://doi:10.1097/NUR.0000000000000635.