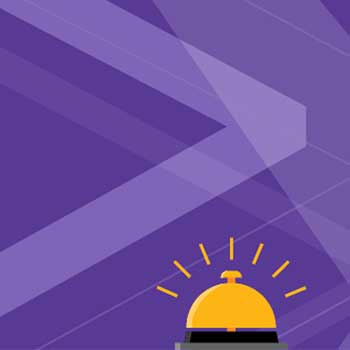 Get to know Service Laurier
Throughout your time at Laurier, you'll hear the name Service Laurier quite often. We are your administration gateway, providing front-line services on behalf of Enrolment Services.
We focus on supporting you through your entire Laurier lifecycle, from initial inquiry through to convocation. We provide assistance with your academic records, course registration, financial accounts and financial support.
Where You Can Find Us
Even though we're in a remote environment, we are still here to support you by phone and email.
Service Laurier is a multi-campus department located in Waterloo and Brantford. When we're not in a remote environment, we offer service in person, by phone and by email. You can find us on the Waterloo campus in the Schlegel Building, room 102, and on the Brantford campus in Grand River Hall, room 202.
Connect With Us Online
Find us on students.wlu.ca on the Service Laurier page. Our page provides you with information about our services and online support. Connect with us online to find what you need and how to navigate Enrolment Services' services.
You Ask, We Answer
Check out some of the information we've provided for you based on your frequently asked questions.
What is a Verification of Enrolment and How Do I Get It?
The Verification of Enrolment (VOE) indicates your enrolment status and registration details for a given academic term. The VOE is a free official document that you can obtain through LORIS. You can print a VOE for any term that you've attended Laurier. The document is considered official by Immigration, Refugees and Citizenship Canada (IRCC), employers, banks and RESP providers.
Will My Invoice Change if I Add or Drop a Course?
Invoices are static documents that will not change when you add or drop courses. The amount outstanding on your invoice will be what's due on the due date. If you make changes to your registration, you can see a dynamic and up-to-date balance on LORIS under the "Student Services" tab, then "Student Account Summary."
How Do I Pay My Student Invoice?
The easiest and recommended method of payment is through online banking; however, we also accept debit and CIBC International Student Pay.
We encourage you to make payment at least three days in advance of a fee due date to ensure your payment makes it on time.
What Resource Can I Use to Help Me Register for Courses?
The registration guide is used to assist you with course registration including program requirements, choosing electives, building a time table, etc.
What is the Academic Calendar?
Laurier's academic calendars contain official information for students regarding Laurier's program requirements, course offering, academic regulations and important dates.
Contact Us:
Limited phone service hours at:
Waterloo – 519.884.0710 x2800 
Brantford – 519.756.8228 x5885