Gender Inclusivity
Your Identity
Being identified by the correct name contributes to an individual's autonomy, dignity and safety. For students seeking to change their documented or legal name at Laurier please see the processes and supports below.
Inclusive Washroom Initiative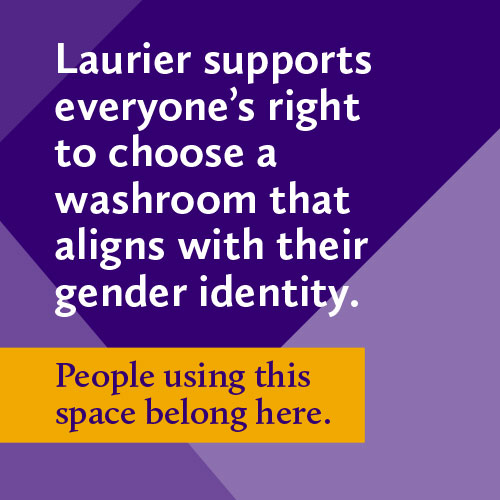 Everyone has the right to use the washroom in accordance with their lived gender identity and/or gender expression. Accessing a washroom on campus can present a barrier for some trans and gender diverse people due to gender monitoring and fear of harm and harassment. Laurier worked to address this barrier throughout 2016 and 2017 by implementing an initiative that replaced the gender specific signs at single-user restrooms with signs free of gender symbols. This was a critical first step to increasing the inclusiveness of Laurier, however, it is not a complete solution.

The Inclusive Washroom Initiative serves as the next step to increasing the inclusiveness of spaces at Laurier by providing signage at multi-user washrooms indicating that Laurier respects and supports everyone's right to choose a washroom based on how they identify and present. This signage will also remind people to refrain from commenting on who is accessing which washroom.​
Signage image text: Laurier supports everyone's right to choose a washroom that aligns with their gender identity. People using this space belong here.
Creating a Positive and Affirming Environment
Creating a Positive and Affirming Environment
At Laurier, we are working to create and uphold positive and affirming environments for trans and gender non-conforming people. There are many factors that contribute to such an environment. Below are some factors to consider when working to foster inclusive environments.
Factors affecting the inclusiveness of environments include: 
using chosen name and pronouns
upholding privacy and confidentiality of personal information
ensuring all requested personal information is necessary and appropriate
using inclusive language and images, including on websites and signage
providing access to washrooms and change rooms
providing dress code options
Pronouns
Asking and correctly using someone's pronouns is one of the most basic ways to show your respect for their gender identity.
What are some examples of pronouns?
he/him/his
she/her(s)
them/they/their(s)
ze/hir(s)
It is important to note that some people do not use pronouns and prefer to be addressed by name only.
The gender-neutral "they" is a personal pronoun that is commonly used by non-binary or gender non-conforming people. It does not associate a gender with the individual who is being discussed. Some examples of how to use it include:
"I spoke to the office manager and they said they'd get back to me."
"I think someone left their laptop behind."
"Who's in charge of the social media campaign? I'll call them."
What if I make a mistake?
It's okay! Everyone makes mistakes from time to time. If you misgender someone by using the wrong pronoun, the best thing to do is say something right away, like "Sorry, I meant (insert pronoun)" and move on.
How do I ask someone what pronouns they use?
Try asking: "What pronouns do you use?" or "Can you remind me what pronouns you use?"
Terminology
Terminology
Language is a powerful tool for increasing an inclusive environment. The words people use to describe themselves and others are very important and the right terms can affirm identities. The following is a list of helpful terms to use when discussing gender identity and expression:
Sex: Refers to a person's biological category an individual is assigned at birth and is typically categorized as male or female (American Psychological Association, 2015).
Gender: Refers to the socially constructed characteristics of women and men – such as norms, roles and relationships of and between groups of women and men. It varies from society to society and can be changed (World Health Organization, 2011).
It is important to understand that sex and gender denote different things and that these terms should not be used interchangeably.
Gender identity: Each person's internal and individual experience of gender. It is their sense of being a woman, a man, both, neither, or anywhere along the gender spectrum. A person's gender identity may be the same as or different from their assigned sex. Gender identity is fundamentally different from a person's sexual orientation (adapted from the (Ontario Human Rights Commission, 2014).
Gender diversity: refers to the extent to which a person's gender identity, role, or expression differs from the cultural norms prescribed for people of a particular sex (American Psychological Association, 2015).
Gender expression: How a person expresses their gender. This can include behaviour and outward appearance such as dress, hair, make-up, body language and voice. A person's chosen name and pronoun are also common ways of expressing gender (Ontario Human Rights Commission, 2014).
Gender binary: A social system whereby people are thought to have either one of two gen­ders: "man" or "woman." These genders are expected to correspond to birth sex: male or female. The gender binary system is rigid and restrictive for many people whose sex assigned at birth does not match up with their gender, or whose gender is fluid and not fixed (The 519).
Non-binary: Is an umbrella term often used by individuals who feel their gender identity cannot be defined within the margins of gender binary (LGBTQ Foundation).
Gender non-conforming: Individuals who do not follow gender stereotypes based on the sex they were assigned at birth (Ontario Human Rights Commission, 2014).
Genderqueer: An identity commonly used by people who do not identify or express their gender within the gender binary. Those who identify as genderqueer may identify as neither male nor female, may see themselves as outside of or in between the binary gender boxes. Not everyone who identifies as genderqueer identifies as trans or non-binary (Trans Student Educational Resource).
Gender Minority: is a person whose gender identity (woman, man, trans, other gender identities) or self-expression (masculine, feminine, gender non-conforming, other expressions) differs from conventional expectations or their sex assigned at birth (Centres for Disease Control and Prevention).
Trans or transgender: An umbrella term referring to people with diverse gender identities and expressions that differ from stereotypical gender norms. Whereas cisgender refers to individuals whose assigned sex at birth aligns with their gender identity. Those who identify as trans or transgender have gender identities that differ from the sex they were assigned at birth (Ontario Human Rights Commission, 2014).
Transitioning: Refers to a host of activities that some trans people may pursue to affirm their gender identity. This can include changes to their name, sex designation, dress, the use of specific pronouns, and medically supportive treatments such as hormone therapy, sex-reassignment surgery, or other procedures. There is no checklist or average time for a transition process, and no universal goal or endpoint. Each person will decide what meets their needs (The 519).
Intersex: Is a term used to describe a person born with reproductive systems, chromosomes and/or hormones that are not easily characterized as male or female (Ontario Human Rights Commission, 2014).
Two-Spirit (adj): A cultural and spiritual identity used by some Indigenous peoples to describe having both masculine and feminine spirits. It can include people who are gay, lesbian, bisexual, trans or intersex. For some, Two-Spirit describes a societal and spiritual role that people played within traditional societies, as mediators, keepers of certain ceremonies, transcending accepted roles of men and women, and filling a role as an established middle gender. It is important to note that this is an English language umbrella term that is used to refer to multiple identities that may have been captured by Indigenous languages prior to colonization (adapted from  Rainbow Health Ontario and Ontario Human Rights Commission, 2014).
Cis-normativity: ("cis" is Latin for "the same as") Refers to the commonplace assumption that all people are "cisgender" (i.e. not trans). In other words, their gender identity is in line with or "matches" the sex they were assigned at birth, and everyone accepts this as "the norm" (Ontario Human Rights Commission, 2014).
Sexual orientation: The direction of one's sexual interest or attraction and is a personal characteristic that forms part of who you are (adapted from the (Ontario Human Rigths Commission, 2014).
Sexual Minority: is a person whose sexual identity, orientation or practices differ from the majority of the surrounding society. This includes people who self-identify as lesbian, gay, bisexual, two-spirited, or more commonly described as a person from the 2SLGBQ+ community (Centres for Disease Control and Prevention).
Systemic discrimination: Complex and systemic, embedded in patterns of behaviour, policies and practices that are part of the administrative structure or informal culture of an organization, institution or sector (Ontario Human Rights Commission, 2014). 
For More Information About Gender Inclusivity at Laurier:
Students
Staff and Faculty
Human Resources at equity@wlu.ca.
Visit Equity, Diversity and Inclusion on Connect.