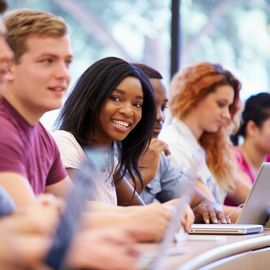 Five Tips to Ease Re-Entry Anxiety
February 7, 2022
By Jessica Linton, Wellness Education Assistant
The return to in-person instruction and extracurricular activities is both exciting and nerve-wracking after spending more than two years remotely. We've adjusted to life online so returning to campus, or going to campus for the first time, can be daunting and stressful. It's important to acknowledge our fears and anxieties as they're valid emotional responses to a life-changing event like the COVID-19 pandemic; however, it's equally important to ensure that we have coping strategies and resources that can help us feel more comfortable. Below are five tips that can help you and your wellness during this transitional period.
Get to Know the Campus
Many students will be coming to campus for the first time this term, which can be overwhelming in itself. Looking at a map of campus can help quiet some anxieties about getting lost or having trouble finding your classes. You can find interactive maps on Laurier's official site, through your SafeHawk app, and there is a link to it on the Student Wellness Centre's contact page. Another tip to familiarize yourself with the campus and find your classes is to come to campus before your in-person classes start and walk around. Write a list of your different classrooms and take some time to find them. Just make sure that you fill out the daily COVID-19 self-assessment before coming to campus!
Prioritize Your Mental Wellness
The pandemic brings heightened feelings of anxiety, isolation, and depression for many people. These existing feelings combined with the stress of change to in-person instruction and academic pressures can make you feel overwhelmed, burnt out, or and mentally depleted. With this in mind, it's important to be proactive and try to protect your mental wellness throughout the term, not just when you're in crisis. You can do this by implementing some of the strategies in this list to stay organized and try to minimize stress, but Laurier offers an abundance of services that can help you stay mentally well. The Student Wellness Centre offers counselling and a variety of workshops and certificates designed to help improve your mental wellness. You can also reach out to the Centre for Student Equity, Diversity and Inclusion (CSEDI) or to Indigenous Student Services for a sense of community or support. Remember that you're a person outside of being a student. Take time for yourself, your friends and your hobbies to put yourself in a positive headspace.
Get Involved
Laurier is known for its sense of community, and there are countless ways to get involved on campus, even in these precarious times. Having a balance of academic responsibilities and extracurricular activities is a great way to make your time at Laurier more enjoyable. There are job and volunteer opportunities posted to Navigator regularly, and the Student's Union also often has positions posted. If you're looking for less commitment, you could look into a certificate program. There are so many different clubs and opportunities available at Laurier, you're almost guaranteed to find something that speaks to your interests or values and allows you to connect with like-minded students!
Take Care of Your Body
We have all heard about the benefits of physical activity, but at times it can be difficult to prioritize your physical wellness when you're wrapped up in your studies or other commitments. Laurier offers resources that you can use to stay active. There's the Athletic Complex on campus where you can workout and try group exercise classes, personal training, and more. No matter what you choose to do, as long as you're incorporating physical activity and eating well into your weekly routine, you will be able to reap the physical and mental benefits which will contribute to your wellness throughout the semester.
Communicate with Your Professors
A great way to ease the transition to in-person instruction is to get to know your professors. You can do this by participating in lectures and attending classes regularly. If you're not feeling well or test positive for COVID, you must stay home. You should send your professors an email as soon as you know you aren't well to inform them you'll miss class until you're feeling better. Another way to get to know your professors is in their office hours. Office hours are specifically for students, so if you want to ask questions or get feedback, make use of posted office hours. Additionally, it's important to let your professors know if you're going to be unable to submit an assignment on time because you're struggling with your mental health. Many professors are sympathetic to the issues that students are facing and would be willing to grant you an extension, but they can only offer an extension if you reach out to them first.
We hope you will able to use a mix of these tips to ease some of your stress as we return to in-person instruction. Make sure to prioritize your mental wellness: your needs as an individual come before your other responsibilities. Remember to reach out for help if you're struggling. You are not alone; the Dean of Students' Office and the Student Wellness Centre are two of many resources that are here to support you during your time at Laurier.