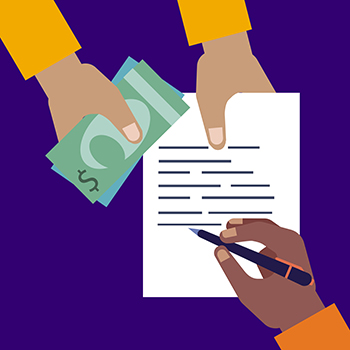 The dangers of contract cheating companies
Midterm season is a stressful time of year for students, made all the more challenging by years of disrupted learning during the COVID-19 pandemic. Unfortunately, contract cheating websites understand this and are looking to take advantage of struggling students.
Contract cheating is a form of academic misconduct involving the use of a third-party company to obtain course materials, including assignments, essays and exams.
Some contract cheating websites prey on anxious students searching online for help by disguising themselves as tutoring websites, offering homework assistance, exam and test preparation, writing support and on-call experts. They require payment of either a monthly fee or uploads of course material in order to access their content. Both obtaining and uploading course material are considered forms of academic misconduct, but they also constitute the unauthorized sharing of instructors' intellectual property, a violation of the Policy 12:2: Student Code of Conduct.
When students stop paying for services, some tutoring websites have been known to resort to coercion, harassment and blackmail, sometimes threatening to report the student to their university if they don't pay.  
Other companies, known as "essay mills," specialize in academic fraud by allowing students to pay per page for "original" essays. However, there is no guarantee that these works are not repeatedly sold or directly plagiarized from other sources. At Laurier, faculty members use software called Turnitin, which checks students' papers against those in the international Turnitin database, as well as academic journals and periodicals, and the internet. Even paid essays that are truly original get flagged by faculty members, who notice changes in writing style, voice and vocabulary.
Using contract cheating sites can lead to allegations of academic misconduct with penalties that could affect you more severely than a bad grade. Penalties for academic misconduct differ depending on the severity of the infraction, but may include the loss of grades, a zero on the assignment, a zero in the course, a permanent note in your transcript, or suspension and/or expulsion from the university. Regardless of the type of punishment, academic misconduct can follow you throughout your academic career and, in some cases, after graduation as well.
Visit the Golden Guide to Academic Integrity for more information about academic misconduct and studying, collaborating, writing and researching with integrity.
You have more options than resorting to these sites or receiving a bad grade. Ask for help.
Remember that your professors want you to succeed. If you feel like you're falling behind or not fully understanding content, reaching out to your professor or teaching assistant for extra help is always the best place to start. Take advantage of the resources available at Laurier to support you and protect yourself from contract cheating websites, which can lead you down the road to academic misconduct.
Academic Support
Student Success, including Writing Services, Mathematics and Statistics Support and Study Skills, offers appointments and workshops both online and on campus. You can register for these appointments and workshops through the Student Success Portal.
Undergraduate students can connect with professional staff and trained peer mentors in Study Skills to help improve their study skills, including time management, note-taking, assignment planning and content review strategies. 
Writing Services provides one-on-one help, as well as workshops, for becoming a more confident writer and editor, as well as support with citations, thesis writing and more.
Mathematics and Statistics Learning Support is available to undergraduate students requiring support in courses with a quantitative component, from formulas and statistics to computer coding and algebra.
First-Year Peer Academic Coaches offer peer-to-peer support to help first-year undergraduate students navigate the transition to university. First-year students can get support with building a study schedule, note-taking methods, learning effective study strategies and more.
Academic Advising is available to all undergraduate students, whether they're facing challenges or not. First-year students can meet with advisors in their faculty for help navigating through course selection, degree requirements, and concerns or questions about their academic journey. For upper-year students, as well as for specific questions regarding your major, students will be directed to a program-specific advisor, who is also available to address their needs and concerns.  
The Dean of Students Office is available to provide students with individualized support when they are experiencing complex or elevated challenges as a result of injuries, illnesses or emergencies, physical and mental health challenges, financial difficulties, or if they need support coordinated across departments and services.
Accessible Learning is available for students with documented disabilities to support them in achieving their full academic potential. Laurier has Accessible Learning Centre locations on its Waterloo and Brantford campuses, which offer tutoring assistance, learning strategies, assistive technology support, exam accommodations, note-taking and alternate-format course materials, among other services. 
Health and Wellness Support
Laurier's Student Wellness Centres are another resource you are encouraged to use. Physicians, mental health counsellors and dietitians are a few of the many resources provided to make sure you are at your best throughout the year.