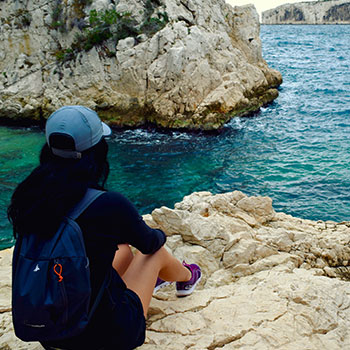 Eligibility for exchanges
You are able to go on an exchange your in your third, fourth or fifth year. Business students are restricted to studying abroad in their fourth year and it is recommended that Communication students and Economic students study abroad in their third year.
You are able to go on student exchange more than once but your second application will not be prioritized because priority will be given to students who have never participated in an exchange and who need the credits they'll take abroad to graduate.
Requirements
You must complete a minimum of 10 credits before participating.
You must have a minimum GPA of 7.0. You are ranked based on your cumulative GPA (i.e. we take into account all the grades you earn in your time at Laurier).

If your GPA is between 6.0 and 7.0, you must have a GPA Waiver Form signed by your academic advisor. The completion and submission of the form does not guarantee placement in the student exchange program.
If your GPA is less than 6.0, you cannot participate in the exchange. Conditional offers will not be made. Once you improve your GPA, you can apply for an exchange again.

If you plan on studying in another language, you need to complete a language assessment. Contact the Languages and Literatures department to arrange the assessment.
Language of Instruction
The language of instruction at most of our partner universities is English. Many exchanges can include intensive language training before or during the semester to help students adjust and improve their second or third language. By planning early, you can start language training as early as first year and make the most of it through immersion at a foreign university in your senior years.
Student Participation
International Students
International students studying at Laurier can apply for the study exchange program but will have to pay international student fees to Laurier. You must investigate the implications on your Canadian study permit and visa requirements to travel to the host country. Please see the International Student Advisor: Immigration and University Regulations for more information and guidance.
Co-op Students
As a co-op student, you can choose one term of study abroad unless you choose to do a co-op work placement abroad for a second term. There are more opportunities for you to go abroad in the fall term because there are more partner schools with corresponding semester dates.
Part-Time Students
As a Laurier part-time student, you can participate in a study exchange; however, you must be enrolled in full-time studies at the partner institution abroad.
Contact Us:
Waterloo Campus

Office Location: Arts Building 2A01

Brantford Campus

Office Location: Dalhousie Centre DC135