Wireless at Laurier
To connect to Laurier's wireless networks, follow the instructions below for your operating system. If you have any problems, you can take your computer to the ICT Service Desk.
Note: The use of the Laurier wireless network is subject to the university policy Principles in the Use of Information Technology (Section 9.1).
Logging into Wifi at Laurier
A Laurier network login is required to access Laurier's wireless network.
Your network account information is the same information required to sign into your Laurier student webmail.
If you have any problems with your network username or password, contact the ICT Service Desk.
Wireless Networks
eduroam
eduroam is a secure access service for members of the educational and research communities. It allows individuals from a member organization to securely access network services while visiting other member organizations using login credentials from their home organization without making special arrangements.
How to connect:
Select eduroam from the list of available Wi-Fi networks.
When asked for your username and password:

Enter your username [xxxx1234]@wlu.ca.
Enter the password associated with your account.
Check the box beside "Remember this Network" and click "Join".

Download the eduroam Configuration Assist Tool by vising cat.eduroam.org.

Click to download the eduroam installer and select Wilfrid Laurier University from the prompt.

Install the downloaded file on your computer or mobile device.
Using eduroam, Laurier students can obtain Internet connectivity when visiting participating institutions by simply logging onto their computer or wireless device with their Laurier usernames and passwords. Visitors to Laurier's Waterloo and Brantford campuses, and to Laurier's Faculty of Social Work building in Kitchener, can also access the Internet using their home credentials if their institution is a member of the eduroam network.
A list of participating eduroam institutions is available at eduroam.org. Canadian eduroam institutions are listed at CANARIE. You can also review the Trust Association Document filed with CANARIE's Canadian Access Federation.
You can install eduroam by downloading the Eduroam Configuration Assistant Tool (eduroam CAT) at cat.eduroam.org.
When entering your credentials into the cat.eduroam.org you will need to enter in your login @wlu.ca.  For example  smith1234@wlu.ca.  Do not use your @mylaurier.
If you have any questions about setting up Eduroam on your device please contact the ICT Service Desk in the concourse.  You can email them at support@mylaurier.ca.
How to Setup Eduroam
How do I setup Eduroam on Windows 10?
Set up Eduroam on Windows 10
1. Select setup_eduroam from your list of available networks in range.
2. A website will pop-up directing you to cat.eduroam.org. Select the blue button to
download your Eduroam installer
3. It will then ask you to select your institution. Search for and select Wilfrid Laurier
University
4. It will automatically provide you your OS's installer. Click it and open the file it
downloads to your browser.
5. Select next > once it opens the installer and add in your username (with @wlu.ca on the
end) and your network login password and select install
6. When it has finished installing, open up your list of available networks and select
Eduroam and check off automatically. 
7. You will now be connected to Eduroam
How do I setup Eduroam on MacOS X?
Setup Eduroam on MacOSX 
1. Select "Setup_Eduroam" from your list of networks in range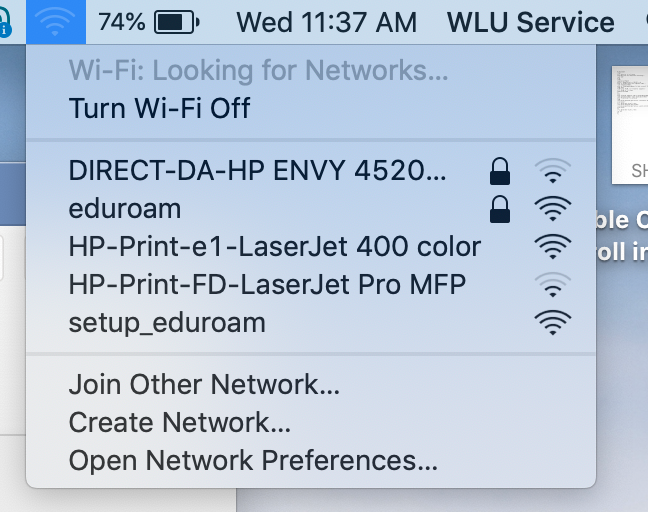 2. It will bring up a webpage: cat.eduroam.org. Select: Click here to download Eduroam installer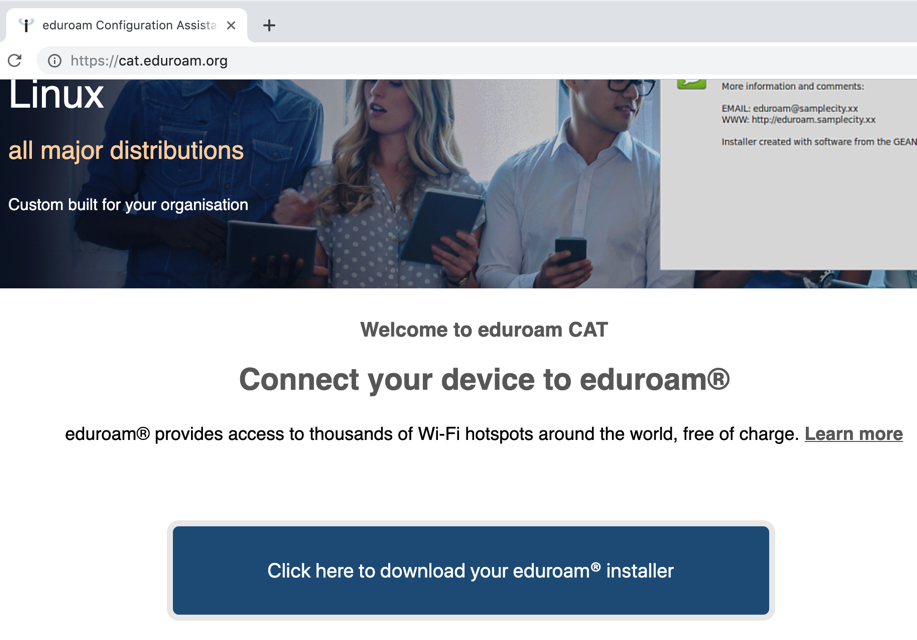 3. Search for Wilfrid Laurier University and select it
4. Select continue when it prompts "are you sure you want to install 'eduroam'?"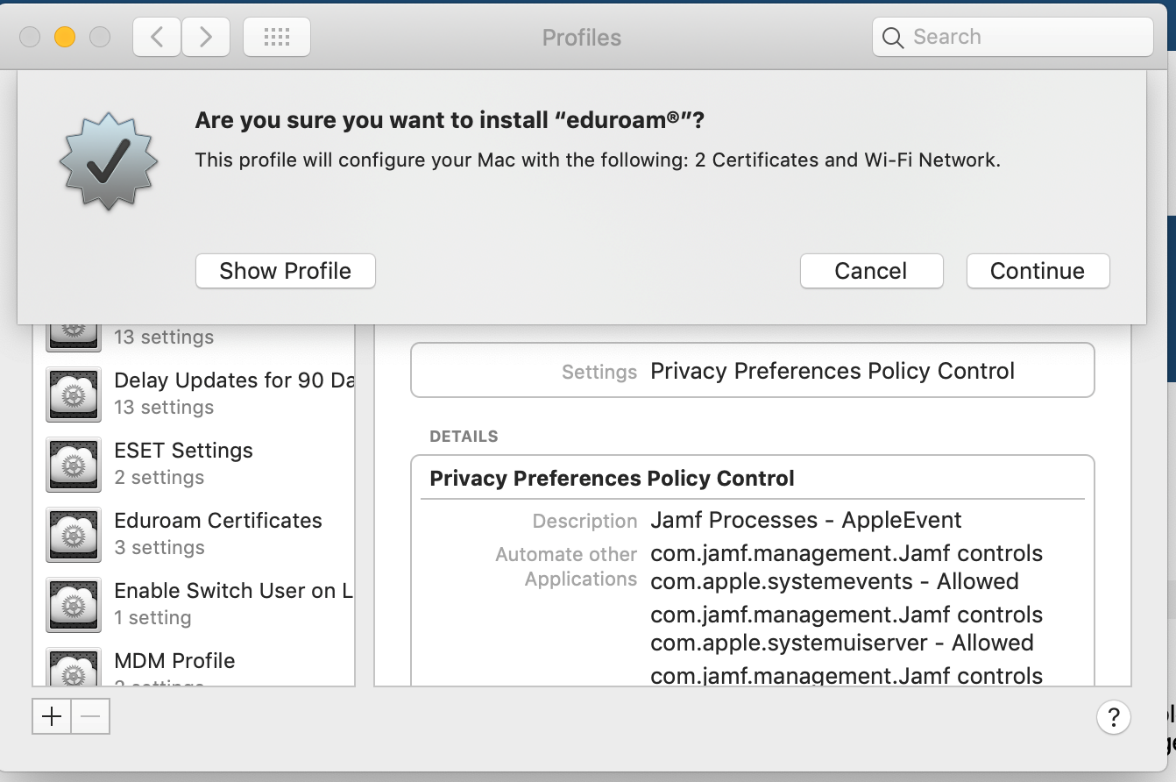 5. Type in your email and your password and select Install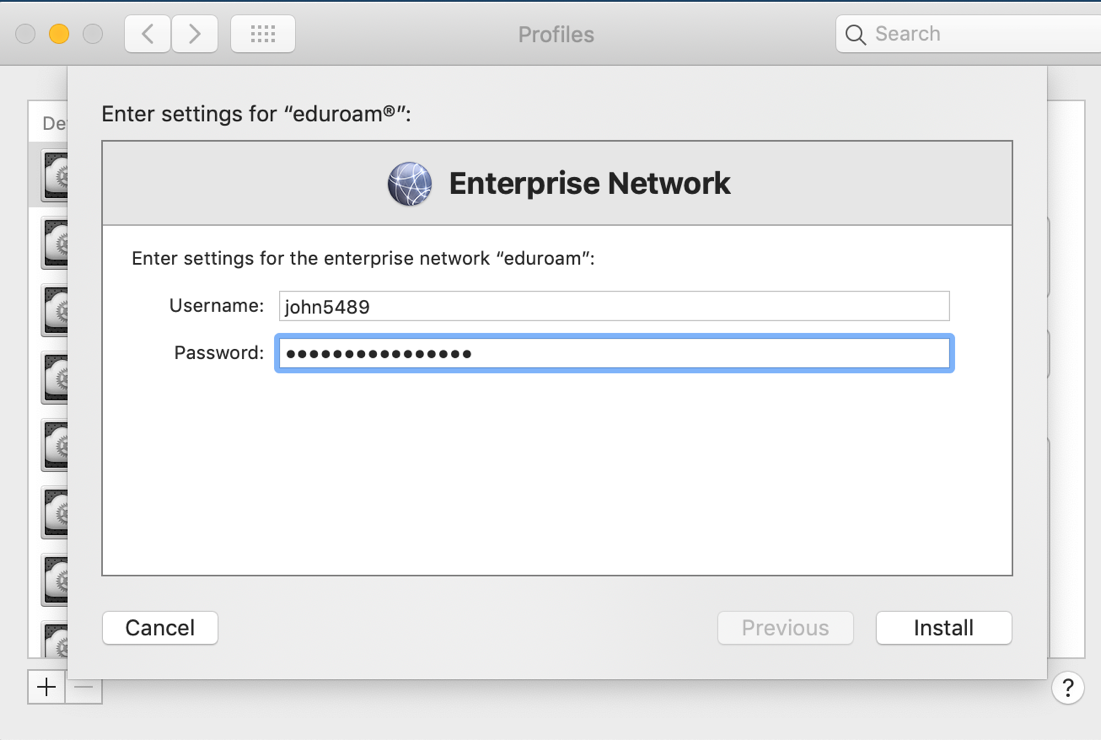 6. It will prompt for your computer password.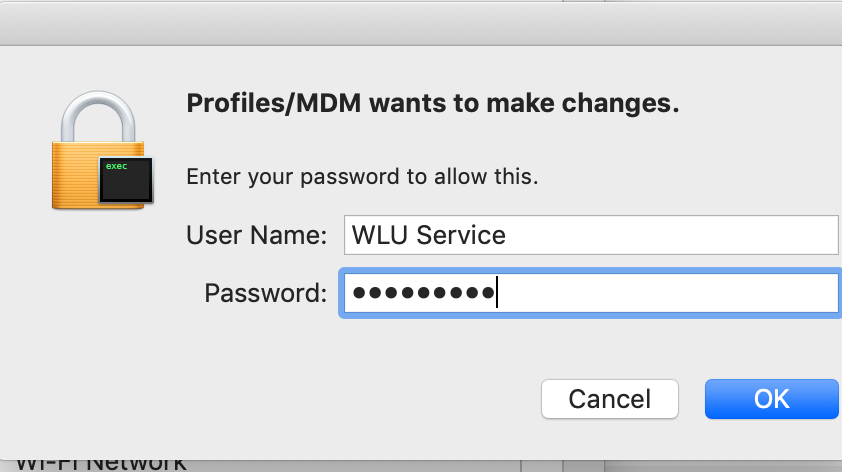 7. Select: Eduroam and you will be connected to the network.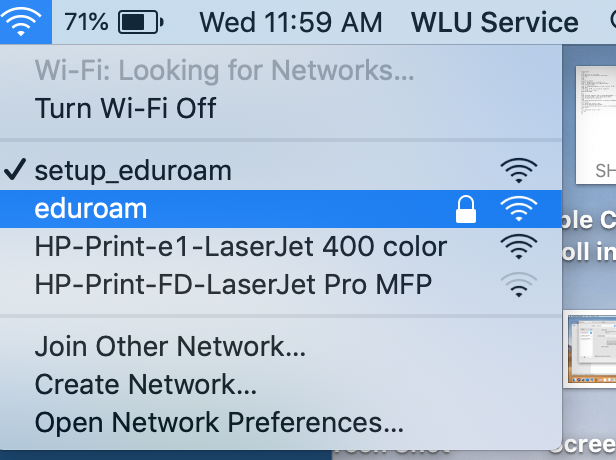 How do I setup Eduroam on Chromebooks?
Configure Eduroam on Chromebooks
Open the dropdown menu next to Select a network
Choose eduroam and the Join Wi-Fi network box will open.
Settings are as follows:
EAP method: PEAP
Phase 2 authentication: MSCHAPv2
Server CA certificate: Default
User certificate: None Installed
Identity: username@wlu.ca
Password: use your Laurier Network password
Anonymous identity: leave blank
If that doesn't work, it is likely because they are getting an incorrect IP address.
To fix this, follow the instructions below:
1. Go to: Network Preferences on Chromebook
2. Select eduroam and click the Advanced dropdown arrow
3. "Configure IP address automatically" will be toggled to the right. Slide it to LEFT and wait a few
seconds, then move it back to the RIGHT and that should ensure a proper IP address is obtained
for Eduroam.
How do I setup Eduroam on iOS?
Setup Eduroam on iOS
1. Open the Wi-Fi Networks window (from the Home screen select Settings> Wi-Fi) and select eduroam from Networks
2. When prompted for credentials input your Laurier username and password and tap Join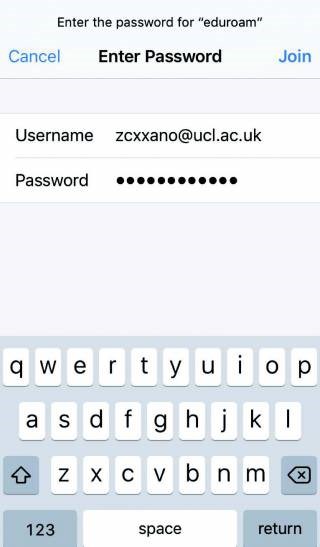 3. You will be prompted to trust the Eduroam certificate. Click Trust to connect to eduroam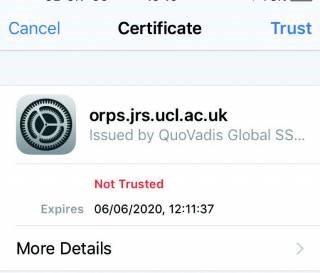 How do I setup Eduroam on Android?
Set up Eduroam on Android
Open up your list of available networks and select: Eduroam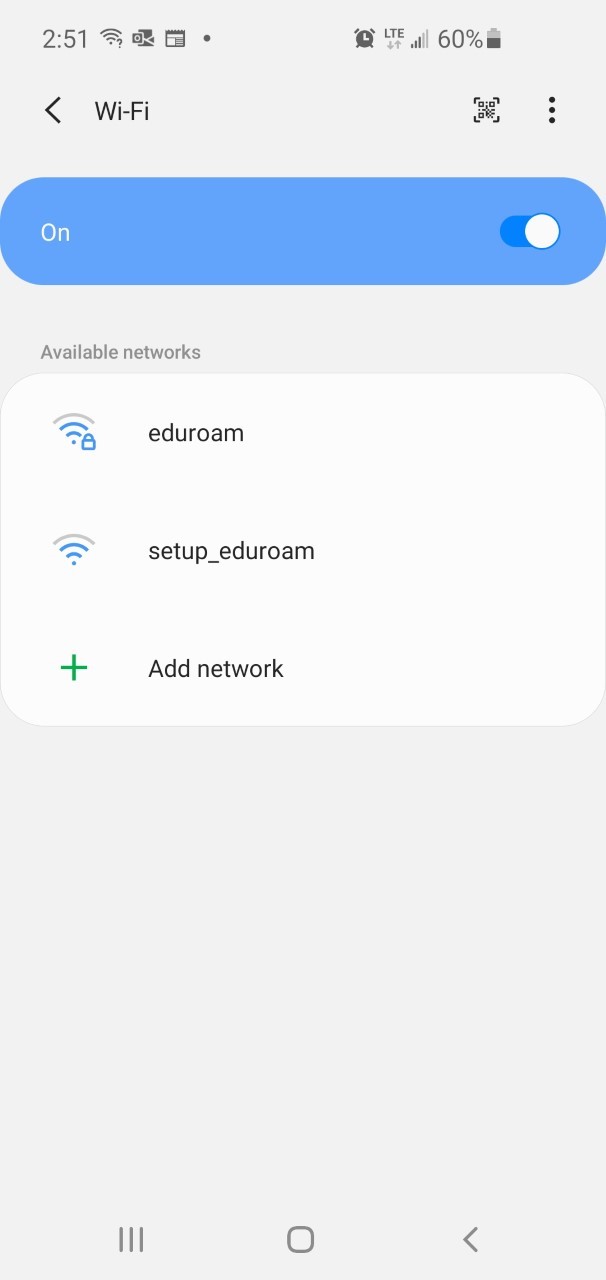 2. Enter in the following settings:
EAP Method: PEAP
Your username with @wlu.ca on the enter and your network password
CA Certificate: Do Not Validate
Select: Connect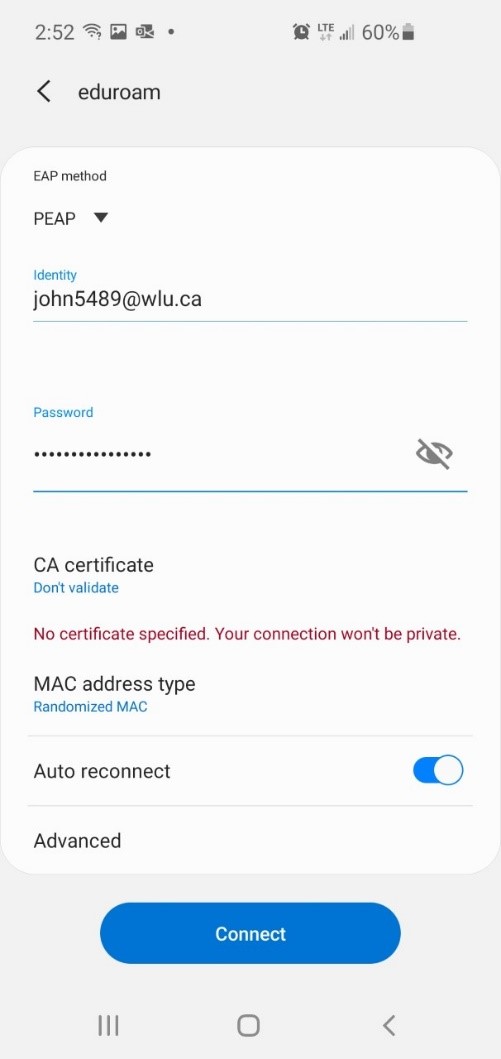 Frequently Asked Questions
What happens when I move from my current location?
When you move out of range your connection will drop.
When you move into range of another WAP you may not be able to connect. This occurs because some devices do not "release" their prior connection and will still try to connect to the previous WAP, even though a connection is no longer possible.
There are two ways to re-establish your Wi-Fi connection:

Reboot your device.
"Forget" or remove the old network connection.
How do people density and limitations with 2.4 GHz frequency impact Wi-Fi?
There is a technical limitation with Wi-Fi at 2.4 GHz frequency. There are three non-overlapping channels available for use at 2.4 GHz. Each channel can handle 65 connections and there is a maximum connection amount of 195 devices for a given WAP at this frequency.
Bluetooth, which also operates at 2.4 GHz, uses a crude method of maintaining a connection known as frequency hopping. This negatively impacts the number of available connections as Bluetooth connections will wander around the various Wi-Fi channels and interfere with Wi-Fi signals. As a result, you may experience a slower Wi-Fi connection or your connection may drop altogether. If you are on Wi-Fi it is recommended to shut off Bluetooth.
Phones set as Wi-Fi hotspots further compound the problem of density. Phones with this feature turned on are attempting to establish a Wi-Fi connection and transmit it at cellular frequencies. This interferes with a laptop's ability to establish a Wi-Fi connection on our network. It is recommended that users shut off Wi-Fi hot spotting when on campus.
How can users help with density and limitation issues?
It is important to purchase devices that have dual band capability (2.4 and 5 GHz). We are seeing devices that have 2.4 GHz connectivity only as companies are "down-speccing" their devices to save costs. This is particularly problematic when you are in an area with many people, most of whom have both a laptop and smartphone connected to Wi-Fi. This may explain why you have good connectivity in residence but poor connectivity in class and common areas.
Shut off Bluetooth on your laptop and smartphone when you are on campus. The Wi-Fi signal you will preserve may be your own.
If your device says it is compatible with 802.11a or 802.11g or 802.11n or 802.11ac then you have a dual-band device.
How do wireless printers and game consoles connect to Wi-Fi?
Wireless printers and game consoles will not connect on our network as we require WPA2 Enterprise security. No consumer grade printers and none of the current game consoles offer this level of security.
How can I get my device to "forget" a network connection?
Windows 10:
Windows "Start" -> "Settings" -> "Network and Internet."
Select Wi-Fi, click "Manage Wi-Fi Settings."
Under "Manage Known Networks," select the network you want to be removed, then click "Forget."
Windows 8:
Access "Settings" and then choose the Wireless icon.
Right-click on the network and choose "Forget this Network."
Windows 7:
Go to "Start" -> "Control Panel" -> "Network and Internet" -> "Network and Sharing Center."
Choose "Manage Wireless Networks" from the options on the left.
Highlight the network from the list and choose "Remove."
Mac OS X (10.8):
Go to "System Preferences" -> "Network."
Select "Wi-Fi" on the left.
Choose the wireless network from the list and then click on the "Disconnect" button.
Click on the "Advanced" button.
Select the wireless network from the list and then click on the "-" button to remove it from the list.
Click on the "OK" button.
Click the "Apply" button.
iOS:
Choose "Settings" -> "Wi-Fi."
When you select eduroam, you will be prompted for the password.
Choose "Cancel" and then open the eduroam network (click on the blue arrow).
Choose "Forget this Network."
Choose "Forget."
Android:
Go to "Settings" -> "Wireless and Networks."
Choose "Wi-Fi Settings."
Long press the network named eduroam.
Choose "Forget Network."
Is Wi-Fi safe?
Wi-Fi works at 2.4 and 5 GHz bands which are in the microwave band. Your microwave oven operates at exactly 2.4 GHz. If a microwave oven can boil water why doesn't Wi-Fi boil you? Your oven operates at about 1,000 Watts of power. Wi-Fi operates in the milliwatt range. 1,000 milliwatts equals 1 Watt. So the Wi-Fi signal is in the range of one millionth the power of a microwave oven. In fact, "the level (students) are exposed to in school is not all that much different from an FM radio station" (
Best Health Magazine
).