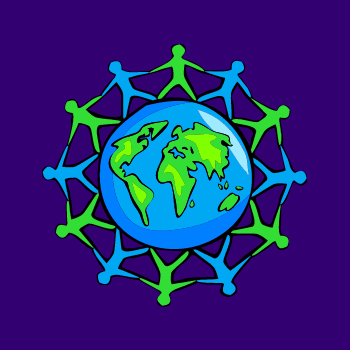 Global engagement opportunities to broaden your horizons from home
International experiences are wonderful ways to learn about other cultures, as well as explore and better understand your own culture. But with our passports collecting dust this year, we've shifted our focus to all the ways you can be globally engaged at home. The benefits of study or work abroad include networking, exploring another language and learning to be open to different points of view. Our International at Home programming helps to bring those experiences to you, wherever you may be. 
Want to learn a new language, or practice a language so you don't get rusty?  
Register for the Tandem Language Program! In the Tandem Language Program, you will teach and learn about another language and culture  with a peer, while getting to know someone new. You get to choose the language to learn and teach and, based on submissions from other applicants, may be grouped with one, two or three other students. 
This program offers a chance to improve your language skills, make intercultural connections and learn in a social way. In 2020/21, program participants were able to connect virtually to learn  French, Spanish, German, Korean, Punjabi, Mandarin, Cantonese, Hindi and more! 
Interested in promoting intercultural learning in a student leadership role? 
The Global Engagement Student Ambassador (GESA) program is for you! As a GESA, you'll help to promote a globally aware culture on our campuses in Waterloo and Brantford. If you are a student with a passion for global issues and intercultural learning, and want to create spaces to explore these themes – whether in person or virtually – volunteering as a GESA is right for you!
In 2020/21, our 36 GESA volunteers successfully moved their programming online and continued to build connections and expand intercultural learning in a virtual environment. 
Want to prepare now to go on exchange in the future?  
We'll be able to travel abroad soon, so join us for the International Opportunities Fair! At our annual fair, you'll learn more about our exchange partner institutions, discover other options for traveling abroad, get information on intercultural learning opportunities and more. You can also ask questions to our exchange alumni, students just like you, who will offer insights and stories from their own exchange experiences. 
Whether hosted in person or virtually over Zoom, the fair will help prepare you for an international experience and intercultural learning.  
Looking to learn more about global engagement and cultural differences, and to expand your intercultural knowledge?  
Register for the Intercultural Certificate. As our world becomes more complex and interconnected, intercultural interaction has increasingly become part of our daily lives. The Intercultural Certificate supports the development of the intercultural knowledge, skills and attitudes that will help you better understand globally engaged communities at Laurier and around the world. 
You will work through eight modules to complete the certificate and you'll also receive credit on your Laurier Experience Record. Students from all programs and years of study are welcome to participate.