Science Research Centre
The Science Research Centre (SRC) is a four-storey research facility located next to the Science Building on Laurier's Waterloo campus. Built in 2004, this modern building is home to research offices and laboratories from disciplines including psychology, kinesiology, computer science, biology, and chemistry. The facility houses a variety of laboratory spaces where researchers have access to the specialized equipment and infrastructure needed for their work.
The research equipment in the SRC is used by faculty, staff and students. Some of these instruments are owned by the Faculty of Science, while others are maintained by specific researchers and are available to other users at the discretion of the researcher.
A few of the specialized instruments are also available to external users at the discretion of the researcher. For information on how to access Faculty of Science instruments, please contact Max Pottier or Gena Braun.
Instrument Use and Training
All instrument users must receive hands-on training from the instrumentation technician prior to use. This training covers theoretical background, operation procedures, and safety. Previously trained users do not need to be retrained, although refresher sessions can be provided upon request. New researchers: please consult your supervisor for which instruments you'll be required to use.
Note that some pieces of equipment carry a small user fee to cover the cost of regular operation (e.g. Milli-Q filter cartridges, cleaning solutions, etc.).
For instrument training in the Science Research Centre, contact Max Pottier.
Equipment and Infrastructure
Aminco French Press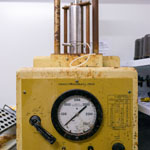 The French Press pressure cell can be used for cell disruption or subcellular fractionation, enzyme preparation, bacterial and plant tissue degradation, and recovery of intercellular proteins and nucleic acid.
Beckman Avanti J30I Centrifuge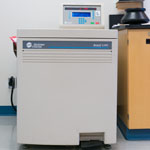 The Avanti J-30I centrifuge can be used to achieve very fast centrifugal separations with rotors that can accommodate high volumes of samples. Swinging-bucket and fixed-angle rotors provide maximum separation forces in excess of 100,000 x g at speeds up to 30,000 rpm. Samples can be run in 50 ml conical tubes or 500 ml centrifuge bottles.
Beckman LS6500 Liquid Scintillation Counter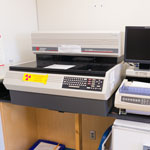 The Beckman LS6500 scintillation counter is used for measuring radioactivity in solid or liquid samples. Liquid samples can be prepared in either in the standard 20 ml glass or plastic vial or in a 6 ml miniature vial. In addition, the LS6500 can be used for single photon counting and dual label studies.
Beckman Optima TLX Ultra-centrifuge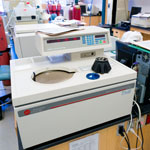 The Optima TLX ultracentrifuge is equipped with swinging-bucket and fixed-angle rotors and can achieve separations at forces in excess of 500,000 x g at speeds up to 100,000 rpm. Sample volumes of 3 to 8 ml can be run in this centrifuge.
Bio-Rad VersaDoc Imaging System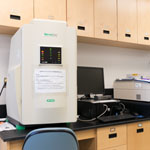 The VersaDoc gel imaging system can be used for quantitative imaging of single and multicolour fluorescence, chemiluminescence, chemifluorescence and colorimetric samples. Two cameras (4000 and 5000) are available for imaging with high resolution and high sensitivity respectively. Images are collected using Quantity One software.
Cary 50 UV-Vis Spectrometer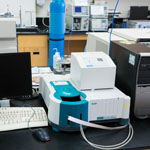 The Cary 50 UV-Vis Spectrometer can be used to measure the absorbance/transmittance/optical density of a variety of samples. Samples can be read using specific individual wavelengths (simple read) or ranges of wavelengths (scan). Additional experiment types include: kinetics, concentration, colour, and thermal.
Cary Eclipse Fluorescence Spectrometer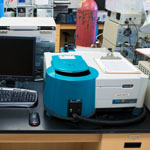 The Cary Eclipse is used to measure sample fluorescence utilizing a variety of software applications. Samples can be read using specific individual wavelengths (simple read) or ranges of wavelengths (scan). Additional experiment types include: kinetics, concentration, lifetimes, and thermal.
Centrivap Centrifugal Concentrator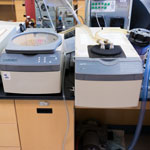 The Centrivap centrifugal concentrator uses centrifugal force, heat and vacuum to remove water from multiple small samples.
Cold Room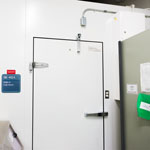 The cold room is maintained at 4ºC and intended primarily for running experiments at low temperatures.
Constant Systems Cell Disrupter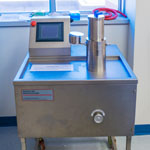 The Constant cell disrupter can be used for cell disruption or subcellular fractionation, enzyme preparation, bacterial and plant tissue degradation, and recovery of intercellular proteins and nucleic acid. This instrument provides a quick method of cell disruption that makes use of an automated pressure cell, and typical disruption requires only a single pass through.
Insta-Ice 475 Dry Ice Block Maker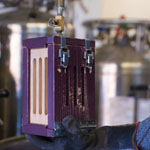 The dry ice block maker can be used to produce small dry ice blocks for organic chemistry applications, quick freezing, or shipment of sensitive samples. Block size is 8.5 x 6.7 x 18.4 cm.
Miele Glassware Washer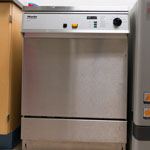 The Miele general-purpose laboratory washer is equipped with three wash routines and can accommodate a variety of baskets and inserts specifically designed for laboratory glassware. This includes an injection basket for difficult-to-clean narrow-mouth glassware and standard baskets for wide-mouthed items. The wash and deionized (DI) rinse water are heated to 70ºC to ensure proper removal of both the contaminant and detergent residues.
Milli-Q Synthesis A10 Ultrapure Water System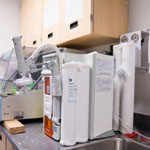 The Milli-Q A-10 Synthesis provides high-quality ultrapure water for applications such as high-performance liquid chromatography (HPLC), ion chromatography (IC), solid-phase extraction and ultraviolet (UV) spectroscopy. Milli-Q water has a resistivity of 18.2 MΩ·cm at 25ºC, and less than 10 parts per billion (ppb) total organic carbon (TOC).
Olympus Fluoview FV1000 Confocal Laser Scanning Microscope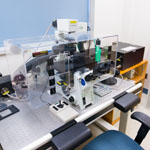 This inverted confocal laser scanning microscope can be used for 3D imaging, time course experiments, energy transfer visualization, and photobleaching experiments using both live and mounted specimens. The system is equipped with three lasers: a multi argon-ion laser (457, 488, and 515 nm), a helium-neon (green) laser (543 nm), and two diode lasers (643 and 405 nm). The high-quality optics include five objective lenses: 10x, 20x, 40x, 60x (oil immersion), and 100x (oil immersion). The user-friendly software is used for image acquisition and simple analysis.
Perkin Elmer 2480 Wizard2 Automatic Gamma Counter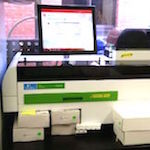 The 2480 gamma counter can be used to count high gamma emitters and low activity samples, with an energy range of 15 to 2000 keV. The autosampler can accommodate 1,000 tubes (up to 13 mm) or 270 tubes (up to 28 mm). Although located in the SRC, this instrument is also associated with the Centre for Cold Regions and Water Science.
Sanyo Program Oven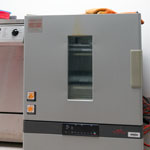 The program oven offers a temperature-controlled environment useful for heating and sterilization of materials. The oven uses proportional-integral-derivative (PID) temperature sensing, which limits fluctuations, and the forced air circulation maintains conditions within 2.5 degrees Celsius. The program feature allows for upwards of three-step temperature programs to be run.
Steris Lab250 Prevacuum Steam Sterilizer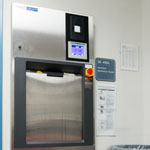 This autoclave is designed for fast, efficient sterilization of heat and moisture-stable materials, including media, glassware, biological waste, and soils. Various liquid, gravity, and prevacuum cycles are available.
Ultra-Low Freezers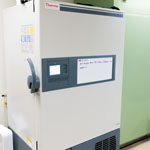 Ultra-low (-80 ºC) freezers are ideal for long-term storage of sensitive biological samples. Additionally, some -40 ºC and -20 ºC freezer space is available for less sensitive samples or temporary storage.
Specialized Instruments
Many of the research faculty have specialized equipment in their own laboratories which is typically used primarily by their own research groups. This equipment includes: incubators, polymerase chain reaction (PCR) machines, centrifuges, gel docs, cryostats, growth chambers, and more.
There are also research labs outside the Science Research Centre, such as at the Centre for Cold Regions and Water Science and the Northdale Campus, which have their own equipment. Some of this can be made available to other users under some circumstances.
For information regarding the availability of any equipment not detailed above under Equipment and Infrastructure, contact the instrumentation technicians, Max Pottier or Gena Braun.