Level One Lounge in Brantford
The Level One Lounge (L1) is one of the only exclusively social spaces dedicated to students on the Brantford Campus. L1 is located on the first level (basement) of One Market, OM116.
The L1 is the perfect place to relax after a hard midterm, collaborate with a group on a project, or best your friends in a competitive match.
The goal of the L1 is to provide a place for Laurier students to spend time with friends as well as meet new ones by providing a casual and relaxed environment.
Follow us on Instagram, @Laurierl1 for updates on events, contests and more.
What's in the Lounge?
This one of a kind hang out spot features both table and video games, along with a full audio/visual set up. There is tons of seating for events and activities and the space also features a rolling cart TV for all your collaborative needs. The space also boasts a kitchenette and a small stage for performances!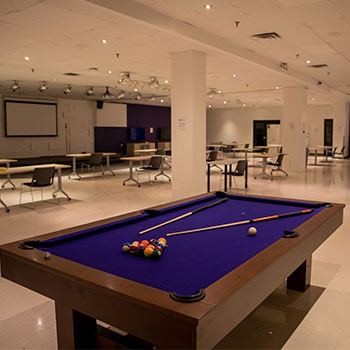 Game tables and systems include:
A Playstation 5
Nintendo Switch
Xbox
Pool Tables
Air Hockey
Table Tennis
Foosball 
A Pac-Man Arcade Cabinet
Digital Board Game Table 
Tons of Physical Board Games 
And More!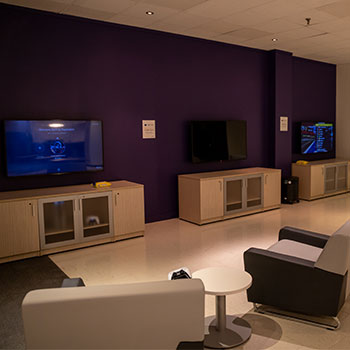 Bring your friends and watch the Raptors or Leaf's on a big screen! Sports not your scene? The L1 Lounge features a projector screen that is perfect for any type of viewing party. Movies, shows, and sports games will be shown on a regular basis so look out for posters and social media posts with details!
Looking for something a bit more competitive? Keep a look out for the designated play nights as well as leagues for things like Ping Pong and Super Smash Bros!
Book the Space
Looking to book some space for your amazing club event? Or a karaoke class social? Do that and more in the L1 Lounge! Fill out our booking form and we will get back to you within a few business days. 
Note: bookings in the space are for a portion of the shared space, meaning other students and Laurier community members can enter and be present in the space during your event. If you believe your event requires exclusive access, fill out the form and email level1lounge@wlu.ca. 
Reserve the Equipment
You can also book out your favourite individual table and video games, days or even weeks in advance to make sure it is free when you want it. This system is invaluable in making sure you get to play when you want to play. 
Check out the system and book a timeslot.
Rules and Guidelines
The L1 Lounge is not a quiet space due to its social nature. We expect people to have fun at varying volumes. Students are still expected to behave with respect for others and abide by the Non-Academic Student Code of Conduct.
We expect all attendees to respect the property of the space. If something is broken or goes missing; the student using the equipment at the time will be held responsible under 6.01.05 a-d.
Respect the booking system. Drop-ins are welcome and encouraged, but students with bookings have priority on games/devices.
Acknowledgements
The L1 was only made possible through a generous donation from the Student Life Levy. We extend a gracious thanks to all the undergraduate students that funded the project through the years!
Suggestion Box
This is a space for students and we want it shaped by students. 
Have an idea for something that needs to go in the lounge, or a game that we absolutely need to get for the consoles? Drop us an email at rqayyum@wlu.ca.