Support and Services
No matter the Laurier campus or location you find yourself on undertaking your academic journey, our two Indigenous Student Centres (ISC) will welcome you with open arms. Whether you are looking for a space to study, hangout with friends or continue on your journey of identity through cultural programming – the ISC has got you covered.
Services
Academics: We offer advising, tutor matching, assistance with course selection, peer mentoring, and academic skill development programs. We also have a study lounge available for small group meetings or individual study sessions.
Research: Borrow a book from our resource library full of Indigenous perspectives on a variety of topics.
Financial aid: Get help with bursary and scholarship information, reference letters and mailing applications.
Personal support: We are here for you! We focus on student well-being and cultural identity guidance.
Cultural programming: Check out our craft workshops, speaker series, moon ceremonies and more.
Socials: Soup lunches are Tuesdays from noon to 2 p.m. – there's a hot bowl of soup waiting for you!
Visiting Elders-in-Residence: Attend an Elder talk or schedule a one-on-one – their knowledge and guidance is invaluable.
Referrals: If you're looking for support on or off campus, we can point you in the right direction.
 Student Centres
Nadjiwan Kaandossiwin Gamik is Anishinaabemowin and loosely translates in English to mean 'a beautiful learning house.' Kathy Absolon-King professor in the Faculty of Social Work and director of the Centre for Indigegogy named the Indigenous Student Centre.
The Indigenous Student Centre (ISC) in Waterloo is located at 187 Albert Street – stop by and see why students refer to the ISC as their home away from home!
Mino-Kummik Community Garden
Mino-kummik, good bountiful earth in Ojibway, is the name of the garden located behind the Indigenous Student Centre on the Waterloo campus. This innovative outdoor ceremonial and teaching space features a landscaped seating area, a fire pit, a vegetable garden and an indigenous medicine garden. The aim of the garden is to create a campus green space for the entire Laurier community while showcasing Indigenous culture with activities such as Elder teachings, sunrise ceremonies, drum birthings, and circle teachings.
Student Support Coordinator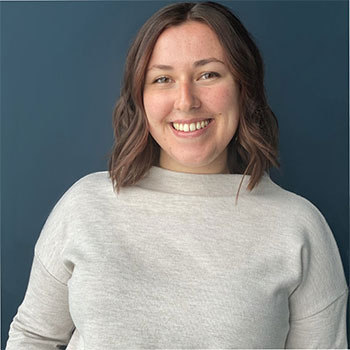 My name is Emily Daniel and I am Anishinaabe Kwe with lineage from Wiikwemkoong Unceded Territory. I am so happy to be working one-on-one with students as the Indigenous student support coordinator at the Waterloo campus ISC.
I will advocate on your behalf and provide guidance that is genuine and thoughtful. I pride myself on service that is personable and approachable – I am always happy to meet with you! I am located at 187 Albert St., room 202, or you can reach me by email at edaniel@wlu.ca and phone at 519.884.0710 x4897.
Office hours to meet with students at the Kitchener campus are held on the second Monday of the month.
Onkwe is a noun root that means 'a being.' On:we is a verb root, action that denotes 'true,' 'original' or 'real.' The word Onkwehon:we is the Mohawk equivalent of the English phrase, 'Indigenous people and/or person' but is more directly translated as 'the original people.'
When you add a locational suffix :ne, the meaning of the word changes to mean at the place of the original people.
Onkwehonwe:ne is an appropriate description and a great name for the Centre. The Centre was named by Kawennakon Bonnie Whitlow, who is a Mohawk woman, Bear Clan from Six Nations.
The Indigenous Student Centre (ISC) in Brantford is located at 111 Darling Street – stop by and see why students refer to the ISC as their home away from home!
Medicine Garden
Tsi Tkahehtakon, the Medicine Garden, is located behind the Indigenous Student Centre on the Brantford campus. This unique outdoor space is used to demonstrate traditional land-based teachings about the human relationship to the natural world.
From a Haudenosaunee context, there is no such thing as a weed. Our work in the garden demonstrates that all plants have nutritional, medicinal and practical values.
The garden is also the focus of an Indigenous Studies course, Medicine Garden, in which students learn from local knowledge keepers about planting, harvesting and using the medicines in an outdoor and hands-on environment. The Indigenous Student Centre runs year-round workshops using the plants harvested from the garden to make a variety of medicines, as well as personal hygiene and household cleaning products.
Student Support Coordinator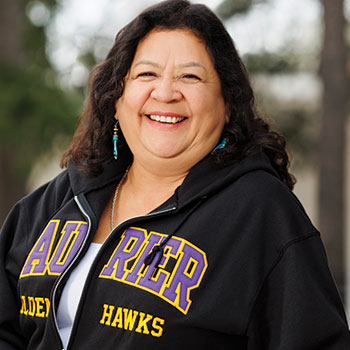 Margaret is Anishinaabekwe from Batchewana First Nation located on the Eastern shores of Lake Superior. She has over 10 years of experience providing cultural, social, physical and emotional support. Margaret is always welcoming when students and guests visit the Indigenous Student Centre in Brantford. Margaret's Anishinaabe name is Neegaabeeshbesingkwe, which translates to mean 'water that falls woman.'
You can find Margaret at 111 Darling St. or you can reach her by email at mneveau@wlu.ca and phone at 519.884.0710 x5884.