Staff Listing
The friendly and dedicated team at International Student Support is here to provide you with the guidance and resources you may need to make the most of your time at Laurier. You can make an appointment or come by during drop-in hours, or just stop by the Laurier International offices anytime to get your questions answered. 
Our Waterloo staff are denoted with a (W) and our Brantford staff are denoted with a (B).
You can also come by the offices to see your International Student Leader (Waterloo) or International Peer Mentor (Brantford). 
We look forward to meeting you!
Mike Aguiar - International Student Advisor, Student Engagement (W)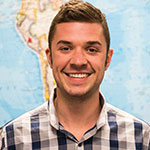 I'm a graduate of Laurier Brantford myself, so I know firsthand what a special place Laurier is to study. When I finished my undergrad, I taught in Korea for a year and I've been involved in international education ever since. Stop  by my office to chat about academics, ways to get involved in the Laurier community, transitioning into a new culture or the latest Marvel movies.
Contact Information
Teeba Alsafar - International Student Advisor (B)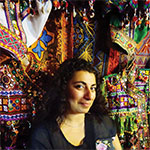 My current role as the International Student Advisor - Brantford at Laurier International focuses on assisting international students with their cultural and academic transition. As part of my role, I plan and implement programming that is geared to those outcomes. I help students with questions about immigration, academics and life plans.
I have been in the field of international education for over 9 years and have received an MEd (Counselling Psychology) degree from Memorial University. My interests lie in assessing the impact of on-campus integration programs on international student settlement and the intercultural development of all students involved in these programs. The most rewarding part of my day is watching students develop and learn about cross-cultural issues and become leaders on campus that support international students. 
Contact Information
Claire D'Alton - Administrative Assistant/Receptionist (W)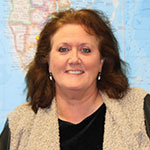 Welcome to Laurier International! I am the first face you will be greeted with when you come into our office.
I have been with Laurier International since January 2013, and I have loved every minute of meeting our new international students.
Contact Information
Peter Donahue, RISIA - Associate Director, International Student Support (W)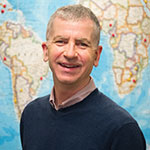 I have been working with international students for close to 25 years and currently I am the Chair of the Waterloo Region's Immigration Partnership. I look forward to meeting you during the various community events organized by International Student Support.
Contact Information
Michelle Kennedy - Administrative Assistant/Receptionist (B)
I am one of the first people you'll meet when you come to the Laurier International office. As a graduate of Laurier's Brantford campus, I'm familiar with the campus and the community and I'm always happy to provide you with advice and recommendations.
Be sure to say hi when you come by!​
Contact Information
Charlene Mak - International Student Advisor, Immigration and University Regulations (W)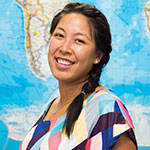 I'm a first-generation Canadian with parents from Hong Kong. I grew up seeing the struggles and barriers that newcomers face and am never surprised by the strength and courage people have when faced with these challenges. I learned how to bridge the gap between the Chinese and Canadian cultures and am trying to do the same for my children. Depending on the day you ask me, I will either be Canadian or Chinese but I will always say yes to sushi. Looking forward to getting you know you and hear about your successes.
Contact Information
Candace Stewart-Smith - International Student Academic Transition Advisor (W)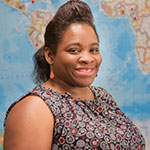 I am a former international student at both the undergraduate and graduate levels, so I personally can relate to the various feelings you have when thinking about your journey to a new country and to an academic system that brings new challenges and opportunities. I enjoy meeting new people and sharing stories on life so I hope that you will come to meet me. I have your best interests at heart and I wish you a warm welcome to your new life!
Contact Information
Jennifer Will - Communications Assistant
Ben Yang - Director, Global Engagement
As a former international student from China, I have first-hand experience with making a successful transition to university in Canada. In moving from a service user to a service provider, I have worked with thousands of international students to help them find their own success in university. I look forward to the ways I can help you be successful while at Laurier.
International Student Leaders (Waterloo)
Meet this year's International Student Leaders (ISLs).
International Peer Mentors (Brantford)
Meet this year's International Peer Mentors (IPMs).
Natalie Lu
I am a fourth-year student majored in Concurrent Education (Primary/Junior) program, with a Math teachable, and minored in Youth and Children Studies. I am excited to start my third year as an International Peer Mentor in Laurier International, and as the president of Intercultural Students' Association of Brantford (ISAB) for 2017-18. I hope that I can graduate early, and get a teaching job in Canada, and finally become a Canadian citizen in the future.
I like drawing and watching movies when I have time. I also like playing ping-pong and badminton.
I encourage everyone to volunteer on campus and join on-campus events as long as you have time. There are lots of volunteering opportunities with Laurier International, student union committees, and different associations. In this way, you can make new friends and explore career options, while enjoying your life in Wilfrid Laurier University!
Emmanuel-Kalu Mitchell
My name is Emmanuel-Kalu Mitchell. I'm in 2nd year studying Criminology at Wilfrid Laurier University, Brantford. I'm going to be an International Peer Mentor this year which I'm so excited for because I can't wait to assist you through your wonderful first-year experience. When I'm not in class or watching a movie, I have my music playing at all times. I'm also a photographer so I totally love taking pictures. 
Julia Rajsigl
My name is Julia Rajsigl. I am going into my fourth year of Concurrent Education and French. I am looking forward to my  first year as an IPM.
I am very involved on campus as a general volunteer for Hawk Team (students activities council) and as an Event Coordinator for ISAB (Intercultural Students Association of Brantford). My goal is to teach internationally after graduation for a few years. I think it is a great way to combine my love for teaching and my love for travelling. Eventually, I want to go back to school for my Masters of Education and then teach French in Canada.
In my free time, I love to read novels, play trivia games, go out with my friends, and travel to different places.
I recommend getting involved on campus. One way to do this is through ISAB. ISAB is a group on campus dedicated to bringing international and domestic students together. It is a great way to participate in fun activities and make new friends.
Emma Ruetz
I am in my fourth year in the Concurrent Education Program pursuing minors in French and English at Laurier's Brantford campus. I am very excited to be an IPM for another year and to be a member of the Intercultural Students' Association of Brantford (ISAB) this year. I am passionate about cultures and languages, I love learning and trying new things. I work in the International office and at TEMS Academy where I tutor international students. I hope to one day have a career teaching English in South Korea.
When I am not in class, I love to play my guitar and sing, watch movies, try new foods and restaurants, and travel as much as I can afford to!
Pay attention to Laurier's social media, find out what events are going on, and then go to them! Going to Laurier's events makes you feel really connected to the school. It helps you to meet new people and make both social and professional connections, plus they're a lot of fun! 
Bo Sun
I am currently in my fourth year of the Criminology program. I would like to become a  police officer someday.
I have a passion for helping people and learning new knowledge from them. I like to spend my free time cooking food, listening to music, and reading books. I love being outdoor and traveling. Also, I am fascinated with cars and motorcycles.
Everyone should get involved in university because that is the way you make friends, get new experience, and learn new knowledge. Just be brave; throw yourself out of your comfort zone. 
May Xu
I am going to my third year in Digital Media and Journalism program this fall at WLU Brantford. It is a great honour for me to join the IPM team this year. Also, I am a member of ISAB which is an amazing association to meet friends from all over the world.
In the future, I want to be a photo journalist so I might be able travel around the world! I like singing and taking photos. When I have free time, I usually watch movies or edit the photos I took.  
Take advantage of your social media platforms. There are so many upcoming events posted on social media, such as Facebook. Don't be afraid to ask for help or guidance, anyone was freshman once.
Vivian Yan
My name is Vivian Yan and I am starting my fourth year in the Digital Media and Journalism Program at Laurier Brantford. I am very excited to be an IPM this year. I believe my passion and enthusiasm to Laurier community will expand more while getting to know more and more Golden Hawks!
I am a very tolerant person in terms of cultural difference and cultural diversity. I am open to new culture, language, and everything else that I am not familiar with. That's probably one of reasons why I particularly love working with Laurier International and have been involved in this department for two years. I am looking forward to my third year working with Laurier International and meeting each one of you!
When I am not in class, I love to take photographs and watch movies! Please feel free to recommend any movies you love and we can discuss more! 
Cedric Zheng
Hi, my name is Cedric, I am an international student from China and presently a second year student in Business Technology Management at Laurier Brantford. Two years ago I decided to come to Canada and start my new life. I am really interested in different cultures and languages in this multicultural country, because I can learn new things everyday. And I'm enjoying my life at Laurier Brantford right now, feeling as a member of Laurier family.
Outside of class, I have many hobbies. I go to the gym everyday to workout, I've been playing basketball since I was a kid, I love traveling and experience different cultures, and I cannot live without music!
For international students, it is a good idea to try to attend Laurier events as many as you can, because you will make new friends there and it will make you feel as a part of Laurier. And please do not hesitate if you have any problems in school or in your life, all international peer mentors are willing to help you.