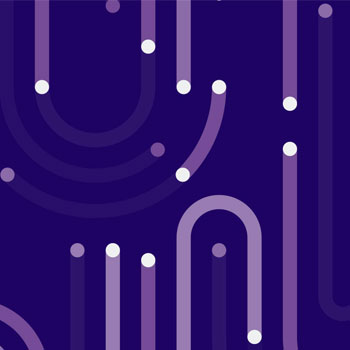 Your Tech Guide to Start the Term
Just like that, a new academic year is starting! We're excited to welcome new and current students back to campus this fall.
To start the term, catch up on the essential tech things you need to know:
What's New? 
Our Tech Services and Support page has been updated! With our new page, you can:
use the quick links to easily access common services and tools,
find our Service Desk contact information, 
catch up on what you need to know, and
use HawkBot Wall-E to find answers to your tech-related questions.
Contact the ICT Service Desk
Need technical help with software, Wi-Fi or your computer? We are here to help. 
Our hours are Monday to Friday from 8 a.m. to 5 p.m. We are closed on statutory holidays and long weekends.
Connect to Wi-Fi
Wi-Fi access at Laurier is through our Eduroam network. Eduroam allows you to securely access network services at Laurier and other participating universities using your Laurier login without making special arrangements. You can set up Eduroam on your computer, smartphone, or other devices.
Report Issues
Complete the Wi-Fi Issue Reporting form to let us know if you're having issues connecting to our Wi-Fi.
Protect Your Accounts with Multi-Factor Authentication
Multi-Factor Authentication (MFA) helps protect your account by adding an extra step to verify that you are who you say you are when you log on. MFA became mandatory for students on May 17, 2022. You must set it up before you can access your email, LORIS, Zoom, MyLS, and other important tools.
There are multiple MFA authentication methods available including SMS, push notifications, the Authenticator App, or using a security key. It is important to create emergency login codes when you set up MFA, in case you lose your device or get a new phone.
Check for Outages and Scheduled Maintenance
The ICT System Status page is used help inform our users about outages we are experiencing and scheduled maintenance. Notification emails are sent out to our user list when an outage occurs. Students are not automatically registered for these notices and must subscribe to receive them.

It is always a good idea to book mark the status page for quick access.
Subscribe to (or unsubscribe from) system status notifications.
Forgot Your Password?
You can now reset, unlock or change your password without contacting us by using the Self-Service Reset tool. 
Password resets can be done from any device, at any time and from any location.
Free Software
The following software is available at no cost to all active undergraduate and graduate students. 
Microsoft 365 is available to each student and includes Word, Excel, OneNote, PowerPoint and other tools.
AppsAnywhere gives you access to Laurier's software on-demand in our on-campus computer labs.
Qualtrics allows you to create forms and surveys, collect data and complete analysis.
Find a Computer Lab On Campus
There are several computer labs on both the Waterloo and Brantford campuses that provide a variety of software for you to use. 
Printing, Copying and Scanning
Self Serve Through PrintMe
Students can print, copy, scan using the campus-wide print management PrintMe system, available in the libraries, print labs and on the public access copiers in Brantford, Kitchener and Waterloo. Printing and photocopying requires funds on your PrintMe account. Access PrintMe using your Laurier login to view your balance, print history and environmental dashboard.
Laurier WebPrint
Save time and skip the line. Access Printing Services' online submission tool using your Laurier login and upload your documents for printing and binding. Printing Services offers convenient next day pick-up for most orders and multiple pick-up locations. Courier service is also available within Canada for a small fee.