Step 3: Build Your Timetable
Once you have created a list of all of the required courses and electives you want to take, you will need to create a personal timetable that includes all of these courses. Use the following tools below to help you make the perfect schedule. Remember that you will need to create a schedule for both the fall and the winter terms.
Confirm Program and Registration Date
Go to "Prepare for Registration."
Select your term. Click "Continue."
Review your current program, year level, as well as your course registration date. You will also be able to see if there are any holds on your account that would prevent registration.
Check Your Time Ticket and Program
Browse Classes Feature
The Browse Classes feature is a tool that provides course descriptions, exclusions, restrictions and pre-requisites that you need to be aware of prior to registering. It also provides information on class space, location and waitlists.
Select a term, click continue.
If you know the exact course that you wish to view, start entering the subject and select from the drop down menu (i.e. Psychology). To see all available courses in that particular term, leave the subject area blank.
Enter the course number in the course number box (i.e. 101). To search for all courses with the same course level use the percent (i.e. 1%). You can choose to leave the course number box blank if you wish to see all courses in that particular subject area available in that term.
Always click on 'advanced search' to choose your campus so that you only see courses offered on your campus. You can select online learning to view online courses.
Click "Search."
Review course details. Click on the course title to see details including course description, prerequisites needed to enrol, and any restrictions that might prevent you from registering in the course.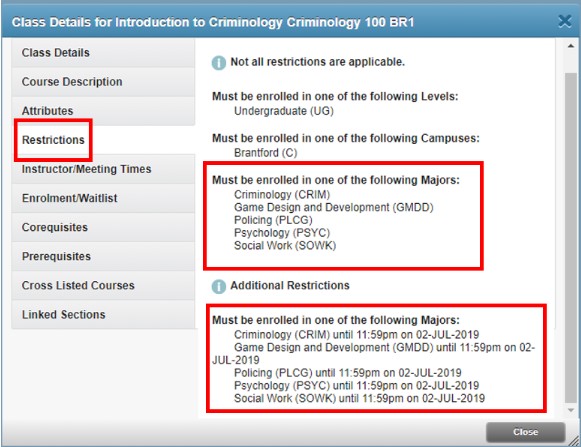 How to Determine Fall 2021 Course Delivery
Visual Schedule Builder 
The Visual Schedule Builder is a tool to help you plan your schedule by showing you all possible conflict-free timetables with the combination of courses you selected. The Visual Schedule Builder does not outline restrictions for each section; therefore, you must use the Browse Classes feature in conjunction with the Visual Schedule builder to create your schedule.
Choose your term.
Select your Campus
Type in the course code you would like to add and then click the 'add' button. Continue to add courses until you have entered all of the classes you would like to consider for your semester. A typical full-time course load is 5 courses per term.
Once you have all courses listed, click on the 'generate schedules' button to see all proposed timetables. You can scroll through each possible schedule by using the arrows under the 'generated results' title at the top of the screen.
Once you have chosen a timetable, save the URL or record the Course Reference Number (CRN) of each lecture and tutorial/lab (if applicable). You will need to log into LORIS to formally register for classes and will use the CRN of each lecture and lab/tutorial to complete your registration.