Step 3: Register for Courses
This is the third step in the three-step registration process. To ensure that your course registration goes smoothly, ensure you have completed the process in Step 1 and Step 2 to identify course requirements and restrictions, and build your schedule prior to moving on to Step 3.
Logging onto LORIS
Go to LORIS.
Under "Network Login Username" type in your username.
Under "Network Login Password" type in your network password.
Note: If you lock your account wait five minutes and it will reset. If you continue to have login issues, contact the ICT Service Desk.
Registering for Courses
Once you've logged in to LORIS, you can use the following process to register for classes:
Click on "Student Services."
Click on "Registration."
Check Your Registration Status
Go to "Prepare for Registration."
Select your term. Click "Continue."
See your registration status.
To return to the homepage, click "Registration" in the top menu bar.
How to Video

Go to "Register for Classes."
Select your term. Click "Continue."
In the "Find Classes" tab, you can search for classes by course code, course title, subject, etc. Add the subject in the "Subject" field and the course number in the "Course Number" field. Or, perform an advanced search based on specific criteria.
Click "Search."
How to Videos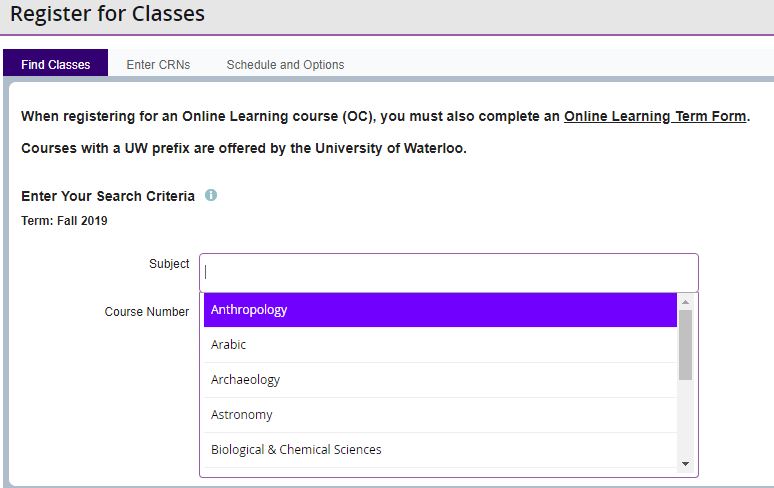 Select one of the course sections available and click "Add." The selected course will move to the summary area. Note: You can open and close the bottom panels to display more course registration information.
Check if there are any time conflicts by looking at your calendar.
Click "Submit" to register.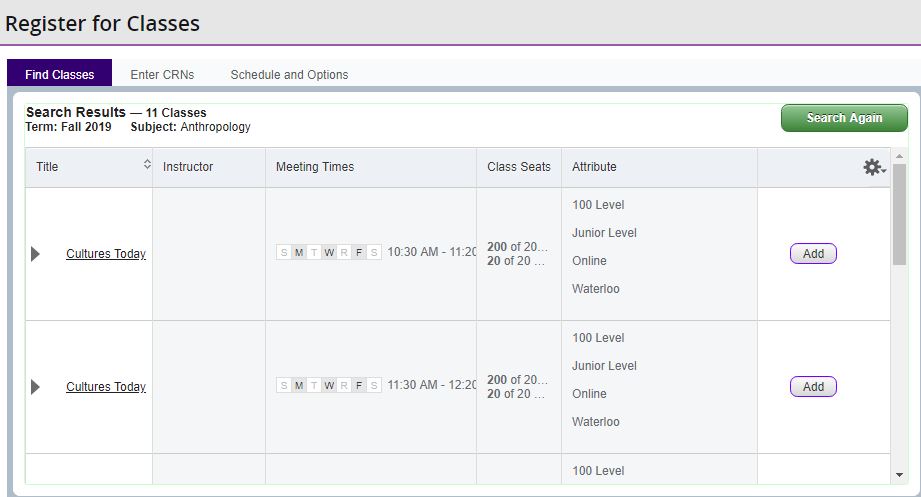 Enter Course Reference Numbers (CRNs)
Go to "Register for Classes."
Select your term. Click "Continue."
Select the "Enter CRNs" tab.
Add a CRN in the CRN field. To add additional fields, click on "+ Add Another CRN" or use the tab key.
When finished adding CRNs, click "Add to Summary," then press "Submit" on the summary page.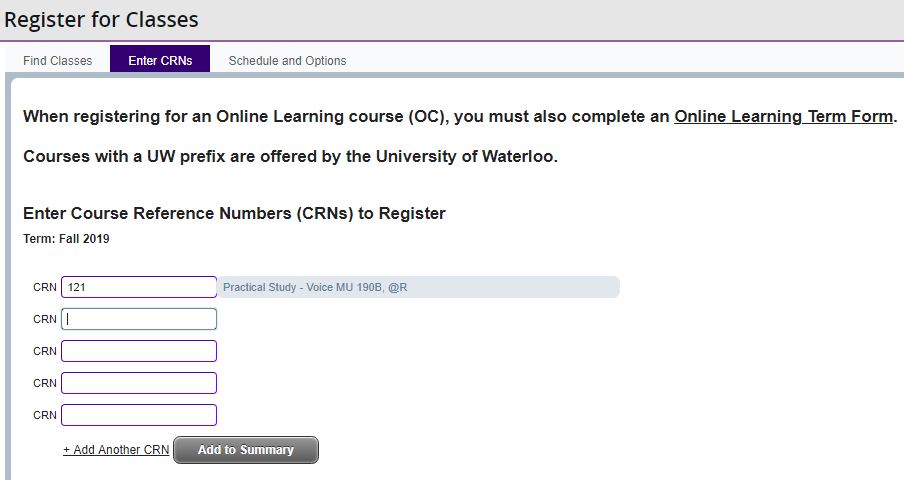 Ensure Registration was Successful
Registration was processed when you clicked "Submit" in the summary area.
After you press "Submit" make sure there are no registration errors.
Ensure you see "Registered" status next to each course.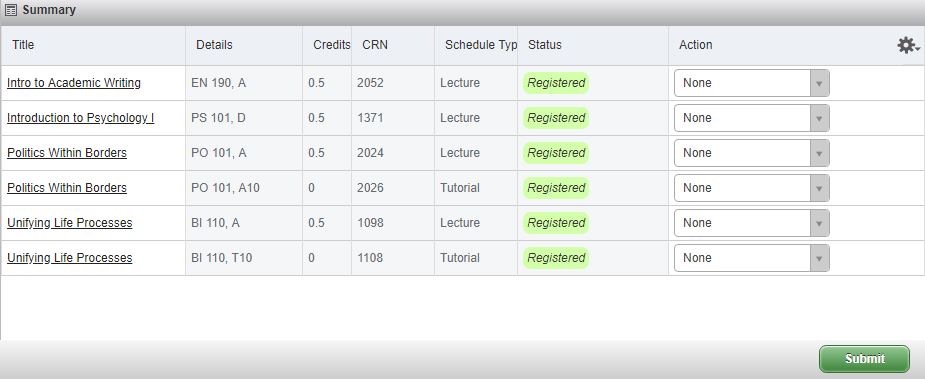 After Registration: View Your Schedule
Go to "Schedule and Options" to view your schedule. Note: Online courses will not appear in your schedule.
You can also use the email icon to send a copy of your schedule to your email account or press print. 
How to Video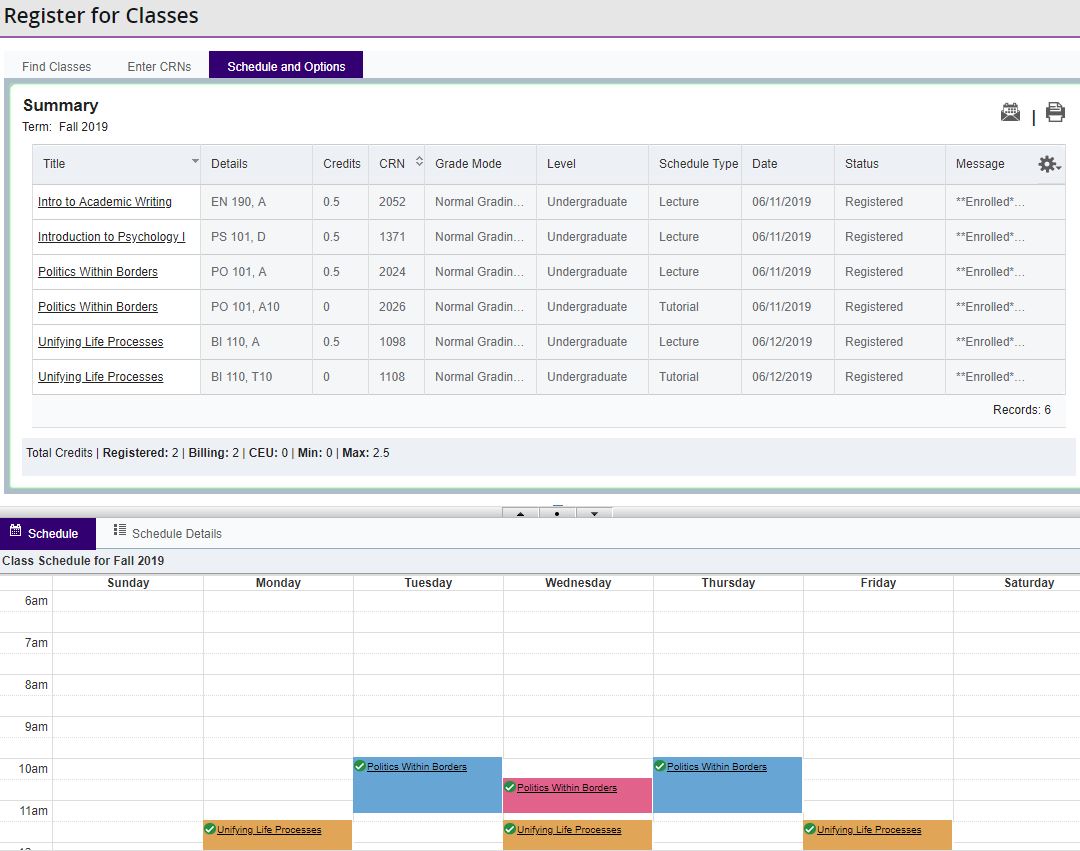 How to Videos
Important Registration Notes
Except during system updates, you can add and drop courses 24 hours a day, seven days a week, until the last day to add for the given term.
Course registration occurs on a "first-come, first-served" basis. Popular courses and course sections at the most popular times fill quickly. You should register as early as possible in order to have the greatest number of sections from which to choose. If a course is full and the department has authorized wait listing to be used, you will be prompted to add yourself to the wait list. Note: not all closed courses have a wait list.
You must register for both consecutive terms of a two-term course individually. Once you've registered for the course section(s) in one term using the instructions above, you are then required to go into the other term and register for the second half of the two-term course. You must register in the same course section(s) for both terms for all required components (lecture, lab, tutorial, etc.).
If a class has a required lab and/or tutorial, you must select it at the same time you choose the course. Some courses have a lecture, a lab and a tutorial, so you'll need to select three items.
Each course section has a unique course record number (CRN) tied to it. To make registration quicker, you can find the CRN when searching for courses in Browse Classes (formerly the Dynamic Schedule) or in the Visual Schedule Builder. Once you know them, you can simply insert the CRN into the fields into the CRN tab under Register for Classes screen in LORIS. If a course requires a lab and/or tutorial, you must include separate CRNs for each component to successfully register.
If you receive an error stating "Restricted to students who have declared this program of study," but require the course, you may be selecting the wrong section. Check Browse Classes (formerly the Dynamic Schedule) to see section restrictions.
Program-Specific Requirements
Program-specific requirements can be found in
MyDegree
for undergraduate students who started at Laurier in fall 2016 or later, or in the official
academic calendar
. The university grading system can be found in the official academic calendar. If there is a difference in the requirements listed in MyDegree and the requirements in the academic calendar, the calendar is the official version.