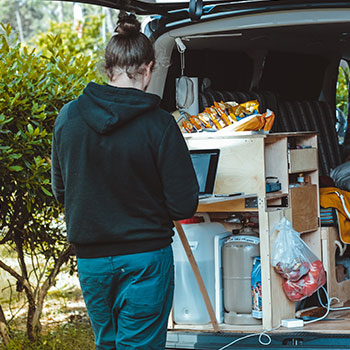 What to Expect on Moving Day
Move-in day can be both exciting and overwhelming. We're here to prepare you for what you can expect on your first day here. 
First Community Meeting
Community meetings are held by the Residence Life Dons to welcome and introduce students in the community to one another. It's an opportunity to meet your new floor-mates and also learn more about what your year will look like. Dons will go over our residence policies in detail, as well as remind you to complete and answer any questions about your online check-in form.
Contribute to the Community Fund
If you are in a Residence Learning Community or Residence Learning Cluster, you will be asked to contribute $40 to your community fund. This one-time payment is managed by the community to facilitate events, programs and purchase items for community use.
Participate in O-Week
Orientation Week is an amazing experience and a great way to transition into your next stage of life here at Laurier. Be sure to connect with your Icebreaker(s) to learn about all the exciting programming we have to offer and get involved. Laurier is known for student engagement and O-Week is a great place to start. Enjoy your week.